Thursday, August 25, 2005
Big week here at the store. For one thing, the restaurant I can see from out of my music room window has closed up after less than a year. It was a blues club & restaurant which had considerable success elsewhere in the state. Unfortunately, this particular eatery location has proven to be cursed. I've seen multiple bistros, restaurants, and steakhouses bite the dust since I started here a few years back. (Damn, has it been that long already?)
The big news, however, is the ATM heist that took place downstairs on the first floor. It was installed in a location between two sets of doors which I can see clearly from my vantage point up here. Apparently the thieves took the entire standing ATM machine, entering the mall premises after closing time. I'll let the local newspaper fill you in with the details:

ATM reported stolen

Police are searching for a missing ATM, taken from a local mall sometime Sunday night, and the burglar who absconded with the nearly 300-pound machine.

The standalone ATM ­ which, empty, weighs about 269 pounds ­ was stolen Monday sometime between 11:30 p.m. and 8 a.m., police said this morning.

Police believe whoever stole the machine, which was bolted to the wall and the floor, probably got into the building near the southwest entrance. That entrance is usually the last one to get locked up at night, one sgt. said.

Police are not sure whether the suspect or suspects came in and waited for the mall to be empty or worked on releasing the machine while customers were still there.

They do believe the theft would have taken a substantial amount of time, required a lot of tools and possibly more than one person or a dolly to remove the machine, the officer said.

The theft was reported by a mall maintenance crew Monday morning.

The machine itself is worth about $3,800 but it is not known how much money was in the automated teller at the time. Michael E. Dillon, managing partner for Fast ATMs LLC of Braintree, Mass., the company which owns the machine, declined comment while police are investigating the case, but he did say this sort of theft is unusual.

"It wouldn't be a very good business to be in if it happened often, would it?" he said.

The company, which is not associated with a bank, has about 300 machines throughout New England.

Police have no suspects.

And here's my view of the crime scene. The ATM would've been to the left of the phones.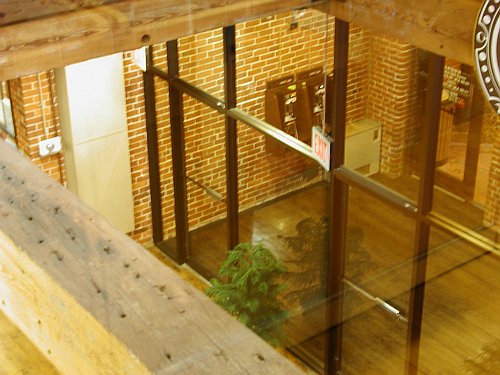 |
Thursday, August 18, 2005