Saturday, July 31, 2004
Retail Regulars: July 2004 Edition (part three of three)
Finally we have the jewel in the crown of regulars, Rodney. The Rod-Man is a dude who loves heavy metal. Not the kind that our last featured player Nathan loves. No, the Rodster digs authentic 1980s metal, back when it didn't suck. He's a walking encyclopedia of metallic 80s knowledge and he can tell you at what point Helloween ceased being cool, or why Manowar don't get the respect they deserve, or which Armored Saint albums are worth owning.
He walks the streets of our little hamlet dressed all in black, from the leather jacket on down to the boots. Most of his shirts lack sleeves, all the better to display the guns he's honed by pumping iron. On those days when he goes without the jacket, you'll note the thick black leather wristbands happening on either arm. His long hair flows free and proud, and you can occasionally see him pause while walking, crouch a little, and whip it forcefully back into place. Does he look like a walking anachronism? Well sure, but he just doesn't give a damn.
To look at the guy you'd expect a badass who'd hit you as soon as look at you, but the surprising thing is that he's actually a nice guy who always has a smile for those he has deemed cool. After successfully tracking down albums like Jim Dandy's "Ready As Hell," I have proved myself lucky enough to fall into that exalted category. He once told me he was having a lousy day because someone had disturbed him before his preferred 4 p.m. wake-up time. Here's to a true retail regular. Long may he rule the night.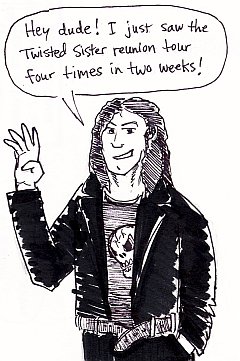 |
Monday, July 26, 2004
Thursday, July 22, 2004
Monday, July 19, 2004
Friday, July 16, 2004
Tuesday, July 13, 2004
Monday, July 12, 2004
Tuesday, July 06, 2004
Monday, July 05, 2004
Thursday, July 01, 2004